WizelineOS: Skills Tracking (October '18 - Dec '18)




WizelineOS is a relatively new platform that acts as a hub for all project-related information. Past project information helps Wizeline's Staffing team determine who's the best fit for a new project--but only to a certain extent.

Problem: Employees' skills are only assessed initially--during interviews--and there's no process in place to track what someone's learned (or is learning) while they work at Wizeline. The Staffing team needs to consult managers on a daily basis to assess who knows what in order to determine if they're a good fit for a project.

Goal: Develop a feature that captures an employee's skills, tracks what they're learning, and what they'd like to learn.

Role: UX Designer. I ideated possible solutions with software engineers and fellow designers. My colleagues Julian and Guillermo created the Wizeline Tea design system; components look different in the final solution because Tea got a makeover before the feature was released.

Tools: Sketch, Abstract, whiteboards, and lots of coffee.

Result: The Staffing team has an accurate record of employees' skills, which are continually validated by managers. Meetings are no longer required for the Staffing team to get a sense of someone's skill set.



Final solution:

---
Assumptions


Having a tool that tracks skills will reduce the need for meetings between engineering managers and Staffing.

It may take employees some time to get into the habit of working with an additional tool.




The tool may prevent information from getting lost in the shuffle during management changes.
Challenges

Quick turnaround was necessary; the Staffing team needed relief from back-to-back meetings

WizelineOS' many stakeholders change the project's direction frequently, so resources for the skills tracking feature were limited
I only had 2 months to deliver (I was the only designer working on the feature)
Who or what determines how well someone knows something?
---
Personas:
WizelineOS personas for s
kills tracking
feature
Existing skills tracking for
Teams
Skills assessments are being documented as "thumbs-up" and "thumbs-down" for Teams employees, which leads to the following questions:
If someone is given a "thumbs-up" up for a skill, how can the Staffing team determine how well they know it? If a client asks for a senior devops engineer, will the person in question who has a "thumbs-up" for devops cut it?

If someone got a "thumbs-down" for a skill but demonstrates promise, how can the Staffing team determine when to test again to see if the employee passes?
Can having a number of a certain type of skills be considered an expertise?
---
Ideation
User flow for skill validations
The dev team and I had grand plans to use gamification to incentivize users to add their skills to WizelineOS but 2 months wasn't going to be enough time to develop and test the points system. Instead, we decided to implement a peer-review system, where people who were in the same project together could assess skills amongst themselves based on how they performed on a project. Each skill has a level; a level 1 means an employee has basic knowledge and a 5 means they're experts and can lecture on the subject.
I decided to continue to represent skills with tags; that system was working for Teams, and since Staffing sometimes works with Teams employees, there wouldn't be a need to adapt to a different scoring system.
Specialties
ideation
Mocks:

Initial design for showing validated skills on an employee's WizelineOS profile (top right)
List of skills organized by status on employee's
Skills
page; initial design
---
Execution & Testing

The first version revolved around
how
skills were validated. Employees could add skills to their WizelineOS profiles and choose from 4 different statuses:
Assessed: has the required validation(s)
Ready for assessment: sent to manager or peer for review
Learning: recently added; not validated (visible only for employee and manager, not client)
Incomplete: failed validation

The team figured that if someone stated they were good at something, they'd be able to back it up with proof--whether they were slides, links to portfolio projects, videos from lectures and talks, etc.
Skills validation modal
However, the feedback we got during testing was...that most people we're not keen on filling out a long form. We also identified a point of friction: a good number of testers were skeptical that colleagues would be able to validate their skills objectively.
---
Iteration


During testing, we learned that if we proceded with the validation method we'd proposed, few people were going to use it. We eliminated peer-reviews and only implemented manager reviews, because managers have a close relationship with their direct reports and they know what's going on--at least enough to endorse someone to be part of a project.

The process of classifying skills with 4 statuses also dragged out the validation process, so in the end, we only kept the assessed status and TBD (pending validation). Only assessed skills show up on an employee's profile.
---
Solution


A little before the Skills feature went live, my colleague Guillermo did a refactoring of WizelineOS profiles, so the layout looks different.

What skills look like after the UI refactor: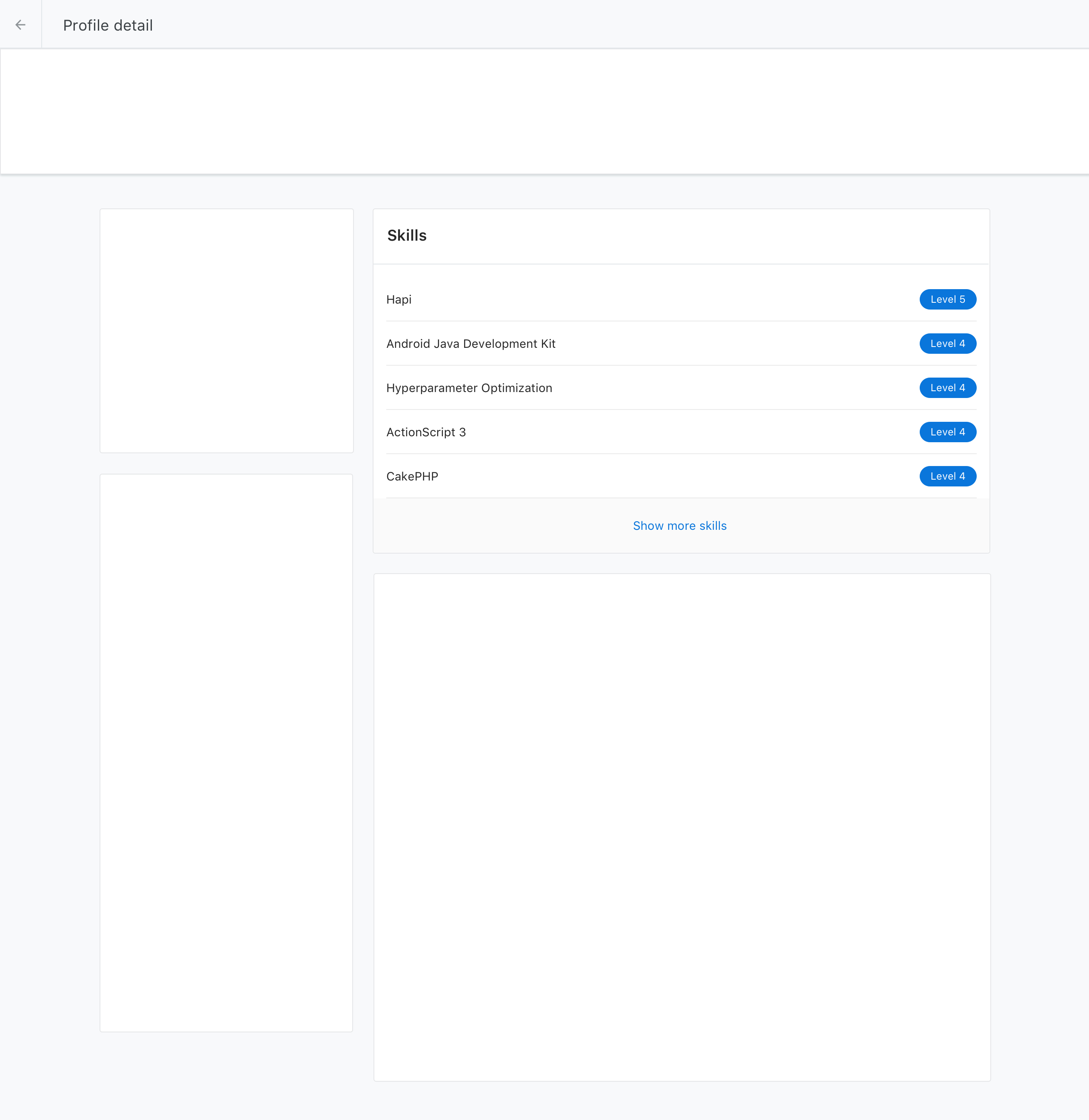 A skill can have a designated level and certifications:



The only proof that employees can add are certifications, and the process will soon begin to be automated once Wizeline's Academy platform is integrated with WizelineOS. Meaning: certifications an employee has earned through Wizeline's Academy courses will automatically display under the appropriate skill.

Employees can add several skills at once:



Skills can also be deleted: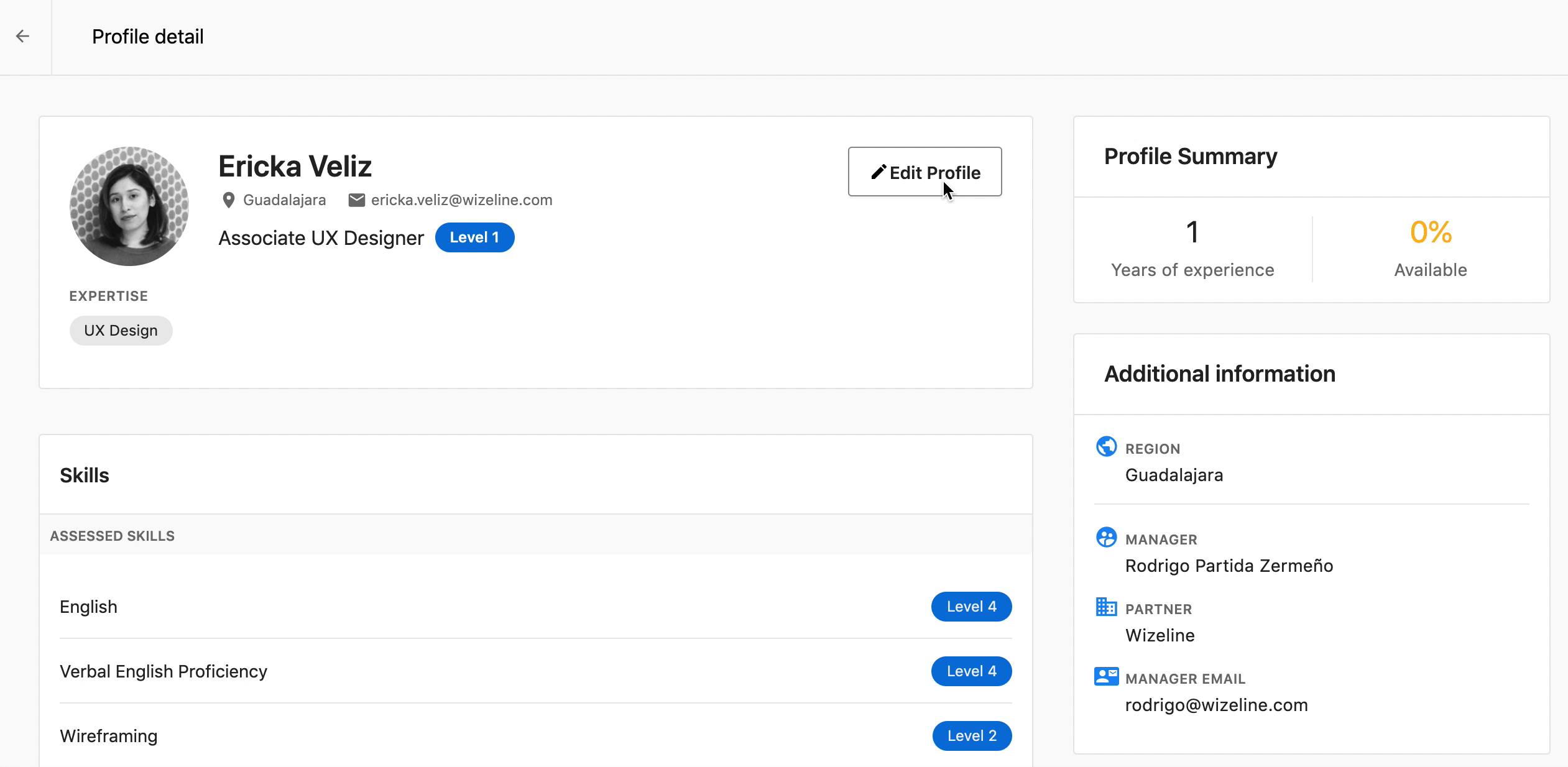 Employees can also delete skills; we found an edge case when employees want to delete skills in order to not be staffed on projects for things they aren't interested in.



---
Outcome


Now, managers validate skills during their 1:1s with direct reports and the Staffing team no longer needs to schedule meetings to consult managers to learn who has the right skills for new client projects.

This was my second project as a UX Designer, so I had a lot of mentorship from my colleague Julian, WizelineOS' design lead. I'm proud to have shipped a feature that has gained traction and continues to meet an important need.



Bonus: laughable bugs